​When it comes to freight rates, supply is one important factor that determines how the market will behave.
Determining the supply is a big challenge as carriers might order too many vessels depending on current favorable conditions and face a bitter reality when there is an economic crash. This is what happened back in 2008 when the financial crisis hit. Then, shipping companies' new vessel orders were as much as 50 percent of their existing fleet.
For many years, there was an overcapacity in the market and carriers lost money on spot rates, so carriers responded by ordering less which resulted in new container ship order booking dropping below 10% in 20 years' time. To put that into perspective, after the 2008 crisis there were over 4 million TEUs of capacity and in 2018, it came down to 2.84 million. In 2020 that number decreased again to 2.21 million TEUs (almost half of what it was 12 years ago.) So, shipping companies had less and less incentive to order more vessels.
When COVID hit, shipping companies originally became more conservative.
However, as the COVID vaccines started to arrive and countries started to open up, with the help of record-breaking profits, shipping companies started a shopping spree. Of the 619 new container ships ordered, 381 have been ordered this year alone which translates to a 3.44 million TEU capacity. This number – even though seems pretty significant now – is still nowhere near the 2008 figures where 6.8 million TEUs were ordered back then.
It seems carriers are a bit more careful now in order not to repeat the same mistakes that they did in the past by overreacting to the current situation. As the current TEU levels may seem low, one might say the new container ship orders might be justified. Rahul Kapoor, vice president of maritime and trade at IHS Markit, said "the orderbook-to-fleet ratio represents a return to 'normalization' in the market after ocean carriers starved themselves of new orders during several years of overcapacity. Indeed, the ratio sat at 10.7 percent for the preceding two years." He added" However, if the ratio gets above 20 percent, that could signal oversupply."
Here are the container ship orders by delivery year:
​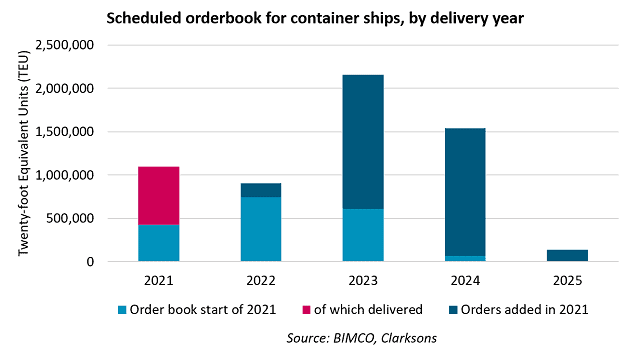 ​
COVID changed what kind of vessels are in demand. Here's why.
Another interesting trend about new orders is that, in the past, carriers were mainly interested in Ultra Large container ships (over 16,0000-TEU vessels) since their main focus was economies of scale and bunker costs. However, the COVID situation showed that large ships are vulnerable to congestion. In a perfect world where there is consistency with cargo volumes and no congestion, utilizing these large vessels makes sense. But, as vulnerabilities increase, so does the carriers' responses.
Hapag-Lloyd and ONE, who asked for ships with over a 23,000-TEU capacity last year have both cancelled those orders now. The biggest increase in terms of orders in ship capacity seems to be vessels in the 10,000 – 15,000-TEU range. These vessels tend to be more versatile in a rapidly-changing market. As shipping companies experience different trade patterns, they can deploy these versatile ships to different trade routes, making them a more logical choice. Size still matters, but it's not the most important thing right now. Another interesting fact is that vessels that are thought to be small (less than 10,000 TEUs) were not in demand over the last five years and it seems they will not be in demand over the next several years.
Here is a chart showing historical and projected deliveries of 7,500+ TEU vessels:
​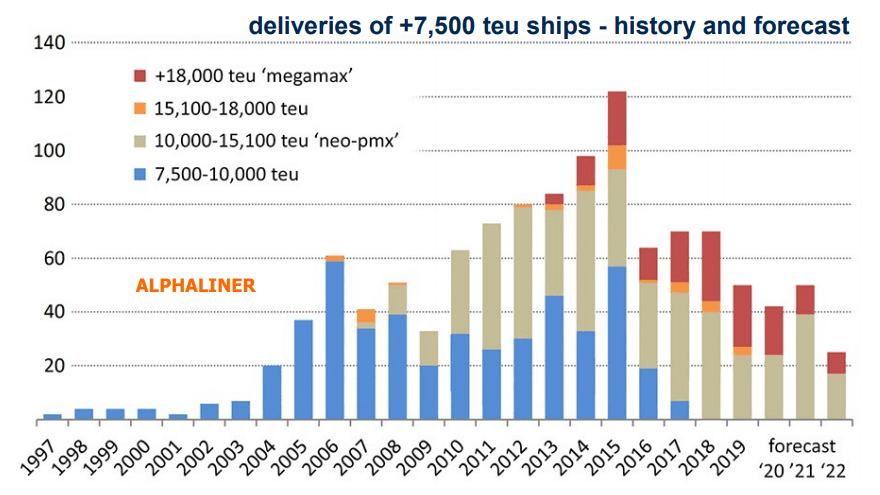 In short, shipping companies seems to have learned their lesson from their past mistakes.
The number of new ship orders are somewhat justified. Carriers also seem to understand that bigger is not always better so their vessel choices seem to be indicating more versatile ones.
However, the most important advantage that carriers have now compared to the past is their alliances seem to be working in their favor. If for some reason, there is any kind of unexpected crisis that happens, they will adjust the capacity through skipped sailings so that freight rates do not come down to previous money-losing levels. So, by looking at orders and capacity, it seems that expecting low freight rates due to overcapacity in the coming years is not in the cards.
​
Source: morethanshipping.com
​